This isn't anything really major, just something I wanted some other opinions on. I've recently gotten back into simming in a couple of play-by-email/play-by-forum
Trek
games. That's something I've done off-and-on since I was 12, and always really enjoyed it. I know to a lot of people, they don't see the point, but as someone who never had the chance to get into table-top RPGing with a group of local friends, I guess it's my version of it.
I like to reuse characters when I can, and even when I create a new character for a new sim, some of my old ones tend to show up in the background. On one of the new groups I'm in, I suddenly found myself writing some of my old characters, members of the Mallory family. Got me thinking about what they'd look like and who I'd cast in the roles. My original choices from back in the day (we're talking mid-90s in two cases, early 2000s in another) have long since lost their viability, so some recasting had to be done.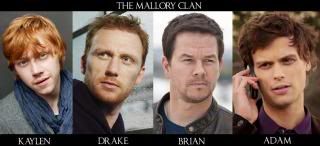 Drake and Brian are half-brothers. Kaylen is Drake's son, Adam is Brian's son. From a purely "looks" perspective, does that casting work? Finding someone who could play Mark Whalberg's son was probably the most challenging bit. The actors are too close in age for it to be viable in real life, but Brian is a quarter El-Aurian, so he looks younger than he is.
And to keep this going, if you've been in RPGs or sims, do you "cast" actors like this? Do you find yourself going back to old characters and reusing them in new sims or campaigns? Who were/are your favorites to play?